Login to view on-demand content from COSM 2022 in Dallas!
Please be aware that the recordings are audio and slides only, no video. Due to a recording malfunction onsite, some ARS and ASPO videos do not have sound. We apologize for this inconvenience.
Click login (upper righthand corner) and enter your last name and 7-digit registration ID from your confirmation email. If you are unsure of your Registration ID, please contact us at cosmsupport@facs.org for further assistance.

Participating Societies:
American Academy of Facial Plastic and Reconstructive Surgery (AAFPRS)
American Broncho-Esophagological Association (ABEA)  
American Head and Neck Society (AHNS)
American Laryngological Association (ALA)
American Neurotology Society (ANS)
American Otological Society (AOS)
American Rhinologic Society (ARS)
American Society of Pediatric Otolaryngology (ASPO)
The Triological Society (TRIO)
COSM is a major national meeting for Otolaryngologists – head and neck surgeons. At COSM, each member society presents an educational scientific program, which features prominent speakers in their respective specialty. These sessions are attended by the key practitioners within their field, as well as by otolaryngology residents, medical students, and allied health.
COSM 2022, April 27 – May 1, in Dallas, Texas, will offer a range of educational opportunities including oral presentations, panels, fireside chats, keynote lectures, product demos, and posters. COSM offers a range of podium, poster, and publishing opportunities, in addition to awards and scholarships.
Attend either in-person or virtually:
– In-person at the Hyatt Regency Dallas, Wednesday, April 27 – Sunday, May 1, 2022. All in-person registrants will also have access to all virtual content.
– Virtually (about a week) following the in-person meeting. On-demand content will be audio recordings with slides and will be limited to educational content only (no social or business events).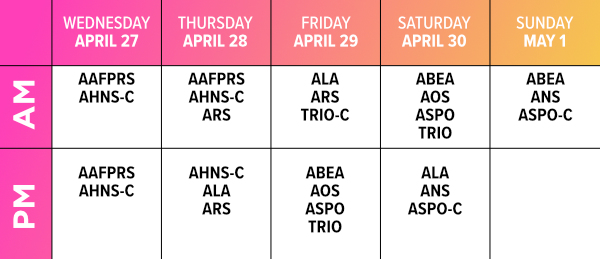 C=Concurrent Session
Follow @__COSM and #2022COSM on Twitter for ongoing information!
Business and Social Events
CME
Contact Us
COSM Societies
Health and Safety Protocols (COVID-19)
Hotels
Industry
Mobile App
Program
Presenter Guidelines
Posters
Registration
Transportation